Small-town Alaska, the comforts of home
August 07, 2000
By PATRICIA JONES
For the News-Miner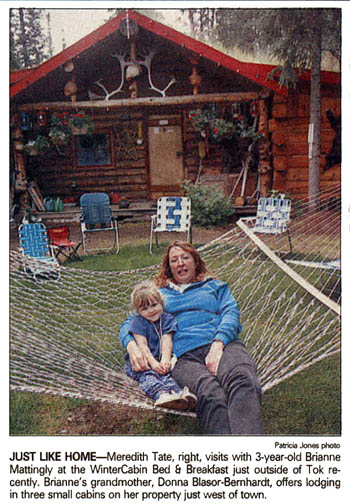 TOK--Road desperation can sometimes lead to some surprisingly comfortable accommodations, especially here along the Alaska Highway.
A tiny log cabin offered up on July 24 as the last available room in this eastern Interior town turned out to be one of the most comfortable places I've rested since leaving my father's farm in Missouri nearly a month ago.
We happened upon the WinterCabin Bed & Breakfast, run by Donna Blasor-Bernhardt at her home just outside of Tok, totally by accident.
At the end of a rather grueling drive through rain and mud on the Top of the World Highway earlier that day, my two traveling companions and I stopped for pizza and some Alaska Amber at Fast Eddie's restaurant in Tok. After all, we certainly had to celebrate our return to the United States after spending a week in the Yukon Territory.
Fatigue quickly set in. It didn't take us long to decide that pushing on to Fairbanks would not be the preferred option, since we'd arrive well past midnight.
I asked a clerk about hotel rooms, and she quickly informed me that everything was booked up in Tok, with the possible exception of a cabin outside the city limits. She dialed the phone number and soon I was talking to Blasor-Bernhardt about her available space.
"I've only got one cabin, and there's someone else interested in it," she told me. I found out that the other traveler was a few miles outside Tok, so we hastily left Fast Eddie's to claim our spot for the night.
At that point, we really didn't care where we stayed or what was available. Our plan was to get some rest and roll out of Tok early in the morning, to head for Fairbanks and a dip at the hot springs.
Once again, the unexpected hit us over the head, this time with a delightful surprise.
The cozy two-room "celebrity" cabin at Blasor-Bernhardt's home was filled with all the essentials for bed and breakfast accommodations, as well as some unusual items that added to the down-home atmosphere. It felt like staying in a relative's backyard guest cabin.
For example, there was the home stereo, complete with cassette tapes and LPs ranging from Willie Nelson to James Brown. Fur pelts hung on the walls and were draped across a lounge chair in the living area of the cabin. And an apartment-sized refrigerator was well-stocked with food and beverage items for a light breakfast.
All we needed was water, obtained from the "Alaska-sized" central bathhouse, for our evening coffee and cards ritual that started our first night in the Yukon. Meredith Tate, my friend from Missouri who spent almost three weeks traveling with me in July, was the undisputed queen of spades, the three-handed card game we played frequently. But I owned the cribbage board--at least, during our card games played in Tok. And throughout the evening, we kept our friend Greg Liles from Oklahoma City busy brewing coffee--a nice Italian roast we found in Whitehorse.
The only problem with the log cabin lodging in Tok was a healthy population of hungry mosquitoes that attacked about two seconds after we arrived at the log cabin complex. Lighting a mosquito coil and placing it in front of the door screen easily solved that.
Blasor-Bernhardt's log cabin and her luxuriously large bathhouse have both been featured in regional publications. A typed booklet describing the origins of her rustic home provides some interesting reading for visitors to the WinterCabin, a complex of three self-built guest cabins surrounding the bathhouse and central home.
Blasor-Bernhardt graciously allowed us to check out of the cabin late the next morning, as we found it somewhat difficult to get moving. It was almost like trying to pry yourself away from a friend's home.
But the lure of the new mineral bathing pond at Chena Hot Springs was calling. What a treat that was after driving several hundred miles through northern Canada and eastern Interior Alaska.
Bernie and Connie Karl, owners of Chena Hot Springs, have created a new water attraction at the hot springs resort located about 60 miles east of Fairbanks.
Next to the indoor pool is a manmade pond, rimmed with huge granite boulders. The springs flow through the structure, and bathers can find pockets of hot water flowing out of various crevices in the pond.
In summer months, cooler water is sprayed into the pond through a fountain-like system. And in one corner, a stream of water falling from a pipe outlet provides some shoulder and neck muscle relaxation.
All we needed was some brilliant sunshine to give our Midwestern tans a little boost, like we had enjoyed at Takhini Hot Springs outside Whitehorse the week prior.
But when you don't start your hot springs swim until 9 p.m., hoping for some sun bathing rays is asking for a bit too much. Even in Alaska.